Shoptimised adhere to the Google API Services User Data Policy, including the Limited Use requirements.
We use the Google Ads API integration to enhance your Shoptimised experience and utilise your Google Shopping Product Performance data. All Google Ads data is only shared with the users of a subscription who choose to link their Google Ads account via the Google Ads API integration. For further information, please review our Privacy Policy.
Linking your Google Ads account to Shoptimised is optional and not a requirement when signing up for our paid Feed Optimisation Software.
If you do choose to link your Google Ads account to Shoptimised via the Google Ads API integration, additional tools and functionality will become available to you within the Shoptimised platform.
Last 7 Days Shopping Campaigns Performance
Each time you log into Shoptimised, you begin on your dashboard. When the Google Ads API is linked, your dashboard will display your Shopping Ads Campaigns past 7 days performance using the KPI that you choose.

Full Automated Google Ads Account Reporting
Linking your Google Ads API also opens our free automated reporting. These reports are prebuilt and you can select which elements you want to include within the report. These reports can also be downloaded as a PDF.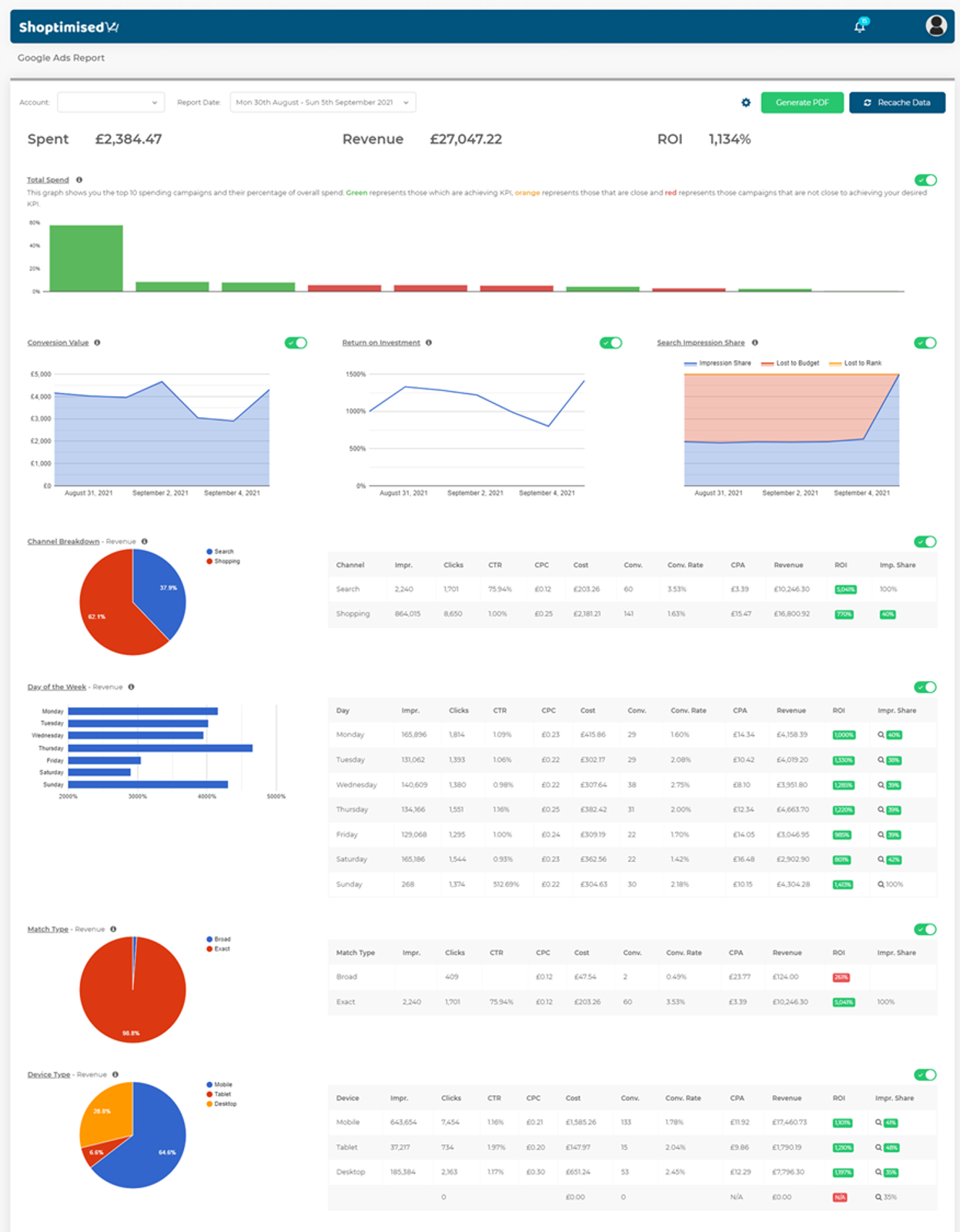 Product Feed Performance Rules
Once your Google Ads Account is linked to Shoptimised an additional rule set will become available called 'New Performance Rule'. This rule let's you set Custom Labels within your Product Feed to selected products based on the performance and lookup period you want to analyse. Your selected Time Period is 24 hours to 90 days.
Your chosen criteria are a selection of Spend, Revenue, Conversion, ROI or CPA. You can then choose an action such as setting a Custom Label or deleting products from your Product Feed.